The G-Ext® exterior cladding produced with the electron bombardment curing (EBC) system is resistant to external factors.Its specially produced surface preserves appearance despite harsh weather conditions such as snow, rain, wind, temperature differences and sunlight.Decorative panels produced with different colors and patterns are preferred especially in exterior design applications.It is resistant to the conditions of bending, breaking, bending and scratching.With its extra reinforced surface, it is resistant to chemical effects and fungi. In addition, if desired, it can be produced in fire resistant B1 formats.
The application areas of the G-Ext ® decorative panels can be listed as shopping centers, sports halls, hospitals, schools, commercial spaces, airports, residences, balconies.
Thicknesses: 4mm – 20 mm
Sizes: 1300- 2800 mm – 1300 – 3050 mm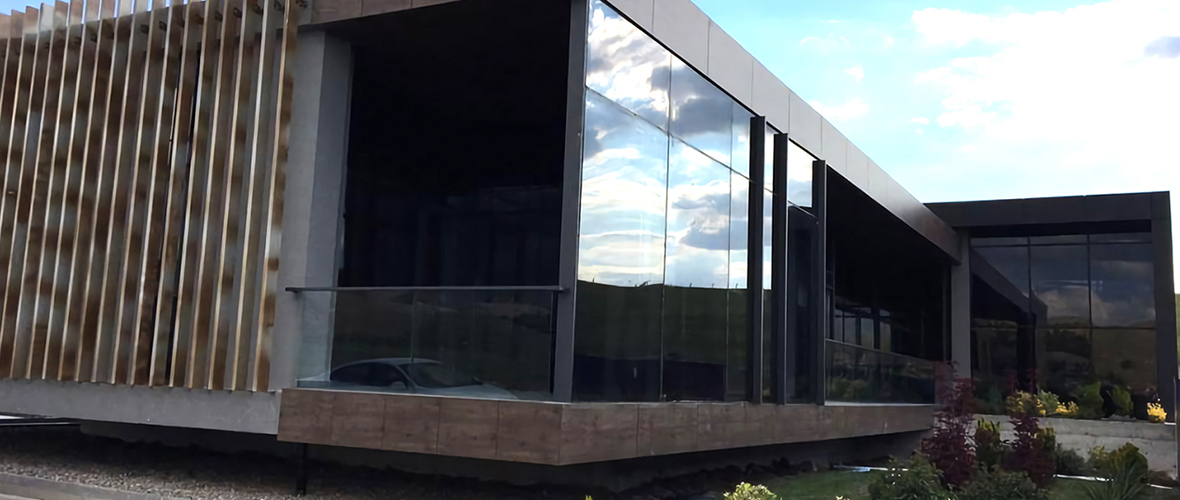 In the compact laminate curtain wall system, the façade sub-construction will be anchored to the carrier system of the building with aluminum vertical profiles and "L" brackets made of galvanized DKP sheet at regular intervals. Before fixing the aluminum vertical profiles to the anchors, heat and water insulation materials will be applied by the employer.
After the determination of the aluminum vertical profiles, one or more of the hooked or adhesive mounting systems will be selected and the panels will be fixed to the carriers.In a building clad with a Compact Laminate facade cladding system, maximum ventilation is aimed since the building surface and the cladding are completely separated from each other.In this way, humidity, heat loss and heat differences are prevented. Within this context, the system is also called "cold facades".The system, which falls under the category of semi-ventilated curtain wall systems, is attached for your information with its optimum conditions and details.
Agrafe Hook System
This mechanical assembly system, which is applied using compact laminate panels with a wall thickness of 10 mm; is applied to the aluminum profiles vertically connected to the building facade by means of "L" brackets made of galvanized DKP sheet, with the mounting of aluminum rails that are in horizontally special cross-sections. The brackets attached to the back of the panels are attached to the aluminum rails with adjustable screws. The corner and joint solutions are attached.
Panel gluing system
This system, which will be implemented by using compact laminate panels with a wall thickness of 6 or 8 mm; is applied vertically to the facade of the building by sticking it to aluminum "T" profiles, which are connected by means of "L" brackets made of galvanized DKP sheet.